"If only you knew" Supporting siblings of disabled children in school
A half-day conference for professionals working across the children and young people sector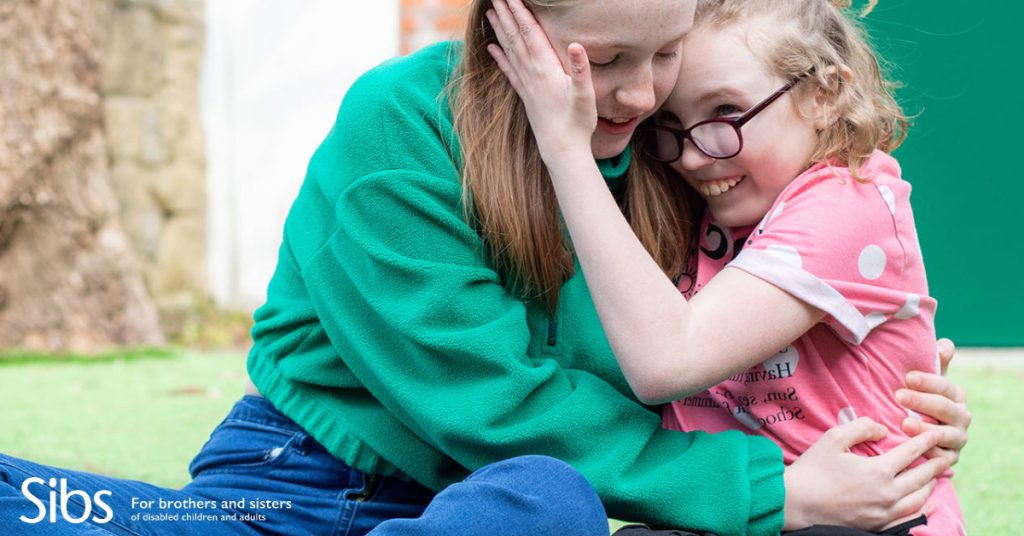 Date – 10th November 2023 9.30am -1pm
Venue – Online via Zoom.
Price –  £140 for statutory services, £125 for voluntary sector 
Overview
There are an estimated half a million young siblings growing up in the UK who have a disabled brother or sister. Siblings are an overlooked group of young people whose needs are often underestimated and often largely ignored.  The pandemic placed huge demands on siblings to provide extra care and support for their brothers and sisters, to the detriment of their own needs and wellbeing.
According to research from Goudie 2013, siblings of disabled children were almost three times as likely to have significant levels of problems in interpersonal relationships, their psychological wellbeing, school performance, or use of leisure time. The Children's Society report, Hidden from View, assessed that over half of all the young carers in the UK were caring for a brother or sister with a health or disability need. Young carers have significantly lower attainment at GCSE and are more than likely to not be in education, employment or training (NEET) between the ages of 16 and 19.  Sibs most recent report "Lonely Lockdown" highlighted the isolation and mental health impact of the pandemic on siblings warned of the lasting effect on their wellbeing and urged for siblings' needs to be addressed as part of recovery.
This conference will offer the opportunity to:
Hear experts address the needs of siblings in primary and secondary settings
Offer strategies for how best to support siblings
Provide practical suggestions on how to improve the future prospects of siblings in schools
Why attend?
Being a sibling is a unique experience that extends across the lifespan – it is a role that requires specialist attention and care. Siblings often fall under the radar in schools, this conference will provide professionals working across children's services with an opportunity to identify priorities in order to improve educational and wellbeing outcomes for siblings of disabled children. Delegates will also have access to new materials developed by Sibs for schools.
Programme
Share best practice in promoting awareness of siblings and the unique challenges they face
Sibling speakers will offer their own insights and school experiences
Discuss the mental health impact of being a sibling
Assess how schools can provide interventions for siblings as part of an holistic approach
Understand the particular challenges faced by sibling young carers
Confirmed Speakers
Clare Kassa, CEO Sibs – Introduction, context and welcome
Emma Bowell, Head of SEND Strategy, Department for Education – Keynote address
Dr Georgia Pavlopoulou, University College London – "I often have to explain to school staff what she needs". School experiences of non-autistic siblings growing up with an autistic brother or sister
Dr Nikita Hayden, University of Sheffield – "Sibs Talk, A primary school intervention"
Heba Jayoosi, Assistant Head Teacher, Inclusion & Research lead and sibling,  "What I want you to know: A message to my teacher"
Briony Wright,  Play Therapist  "How are you?" Simple interventions for school settings
Dr Sophie Davis, Specialist Senior Educational Psychologist "Supporting siblings of children with high levels of need through the Educational Psychology offer in Bradford"
Andy McGowan, Carers Trust – "Improving the identification and support for sibling young carers"
A young sibling – a personal view
Who should attend?
Schools
School Nurses and Health Visitors
Head Teachers, Teachers and SENCOs
Educational Psychologists
FE College lecturers
Youth counselling teams
Voluntary sector organisations
Young Carers Teams
NEET Teams
Social Workers and Social Services
Children's and Youth Services
Family and Systemic Psychotherapists
Family Intervention Project Workers
Family Support and Outreach Teams
CAMHS Practitioners
Child and Family Health Teams
Local, Regional and National Health Services
Commissioning and Delivery Teams
Disability Practitioners
Parental Support Workers