Summer Brother by Jaap Robben: A sweet tale of sibling love, told without sentimentality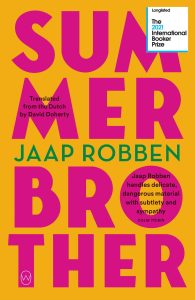 Teenager Brian comes from a dysfunctional family; his parents are divorced and he lives with his conniving father in a trailer home, located in a remote Dutch landscape. He is the only child on the site. When Brian's physically and mentally disabled brother, Lucien, who lives in a care home, needs to be relocated due to building renovations, their dad sees a financial opportunity and arranges for Lucien to spend the summer with them in their trailer. But their dad is often not around, leaving Brian to take care of Lucien.
This is an account of a young teenager who is unwittingly put into a position of having to take care of his older disabled brother, learning about Lucien and his many and varied needs as the days progress. Brian is accepting of Lucien's world which includes others in Lucien's care home, interacting with Lucien and others in an innocent and non-judgemental way. He is gentle and loving toward them, even when forced to undertake unpleasant tasks. Brian is clever, caring and connected to others' needs. This is a lovely and sweet tale of sibling love, told without sentimentality. The reader is left with the sense that Brian is not a hero, as contemporary cliché dictates – he is simply acclimatising to his new normal.
Review by Pam Foley, adult sibling.
Summer Brother
By Jaap Robben, translated from the Dutch by David Doherty (2021); World Editions
Siblings by Kate Strohm: There are so many sentences in this book that perfectly describe my own feelings as a sibling of a disabled person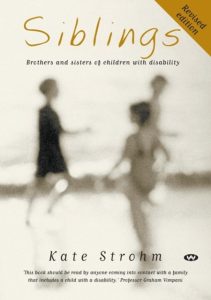 I realise that a short summary / review of a book cannot include countless quotes and little else but that is exactly what I found myself wanting to write because there are so many sentences in this book that perfectly describe my own feelings as a sibling of a disabled person:
"I wanted to make life easy for my parents to make up for their pain"
"It was clear that at some point the development of my identity had been hindered"
"I had a very strong sense that (bad/difficult/tragic) things just happen".
Siblings is a really comprehensive exploration of being a sibling based on Kate's own life and also includes descriptions of different emotions and situations from other siblings. There are brief summaries and possible solutions at the end of each chapter so it's easy to refer back to particularly relevant bits. The third part of the book is strategies which may help with some of the challenges of being a sibling.
I recommend reading this book if you want to explore some of your own experiences growing up as a sibling and how it affects you as an adult. It may touch on some uncomfortable or sad feelings but for me it has helped to make sense of so much.
Review by Sarah-Jane, adult sibling
Siblings: Brothers and sisters of children with disability
By Kate Strohm (2014); Wakefield Press
The Sound of Turquoise by Gill Gregory: Readers with siblings who live with disabilities will resonate with Meg
Gregory creates a space through The Sound of Turquoise to explore her childhood memories, of the relationship with her disabled brother Andrew and her Grandfather Alexis. She uses Meg, the protagonist, to enable her to revisit her experiences which perhaps were too painful to address directly. In doing so, it gives the story a slightly fictional less biographical feel.
This is a subtle, beautifully written multi-pronged story of family relationships, migration and your place in history. Readers with siblings who live with disabilities will resonate with Meg. Her deep love for her brother, her desire to protect him but also her feelings of embarrassment, confusion and guilt are all too real. However, Gregory cleverly intertwines memories of Andrew with a recounting of her Grandfather's escape from war-torn Uzbekistan in 1904. This changes the stories direction at well-appointed intervals, stopping the story from becoming too self-reflective or melancholy.
Gregory vividly describes the attitudes and perceptions of the time (mainly 1900-1960), giving a strong sense of the people who frequented each period, from the terrible events leading to migration at the turn of the century through to the newfound freedoms of the modern era. Ultimately it explores how trauma continues to run through and influence family generations from the vantage point of the future. Very touching and compelling.
Review by Jenny, adult sibling
The Sound of Turquoise
By Gill Gregory (2009); KUPress
A Little Life by Hanya Yanagihara: It made an impression on me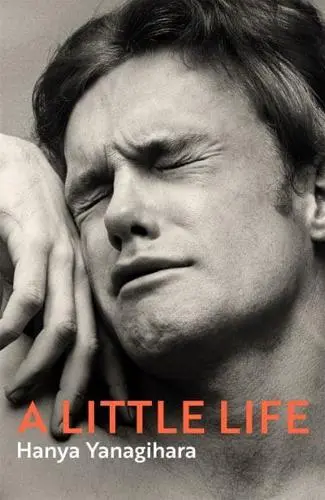 In her 2015 novel A Little Life, American author Hanya Yanagihara tells, rather beautifully, of a sibling relationship between Willem and the late Hemming. Their Icelandic father and Danish mother emigrated to the US from Sweden and raised the boys in Wyoming, Hemming, who died as a young adult, was severely disabled and pre-verbal. Writing from Willem's point of view, Yanagihara describes Hemming with tenderness, and conveys Willem's deep love for his brother. The episode only takes up a couple of pages in a 750-page novel but it made an impression on me. Yanagihara notably focusses exclusively on Willem's feelings, treating them as a separate entity unconnected to the parental relationship with the disabled child. A Little Life was a huge bestseller on both sides of the Atlantic, and was turned into a West End play.
Review by Sara, adult sibling
A Little Life 
By Hanya Yanagihara (2020); Picador
Are you an adult sibling? Have you read a great book recently that other siblings need to know about? We'd love to post your book review! Email info@sibs.org.uk