Allie Stewart – A tribute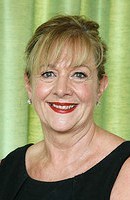 "It is with huge sadness that we share the news of the loss of Allie Stewart, Sibs Trustee.  Allie was generous in her support for the charity and brought expertise and energy to the role. Our hearts go out to Allie's friends and family at this difficult time. Sibs work is richer for Allie's support and care."  Clare Kassa, CEO, Sibs
Combining warmth, compassion and humour, Allie was a much valued and respected trustee at Sibs. Allie, a qualified counsellor, psychotherapist and Fellow of the Royal Society of Arts, joined the trustee board in April 2019.
Having been signposted to Sibs by a healthcare professional caring for her sister Liz, Allie found the charity to be a lifeline. She had shared how it helped her come to terms with some of her difficulties as a child and helped her manage her own journey as an adult sibling.
As an only sibling, Allie faced childhood challenges that were made all the more difficult by negative attitudes towards disability in the 1960s. Like many siblings, her needs were neglected and as a teenager she struggled to be heard and understood. Allie was therefore particularly passionate about our work with teens. Sibs also benefitted from her expertise as a psychotherapist in our work with counsellors supporting the needs of adult siblings. Allie wrote advice for adult siblings on self-care and on Covid-19. She brought powerful insights about health care procedures, mental capacity issues and the frustrations of sourcing the right care, based on her knowledge of negotiating support for her sister's changing needs. She also oversaw our information on bereavement.
Sibs, as Allie said, was the first time in her life that she met other siblings who shared some of her experiences and insights. She cared enormously not only about our work and in raising the profile of the organisation but also about the staff team.
Allie once described her counselling work with words that sum up not just her motivation for joining Sibs, but her wider approach to life: "I wanted to make sure I could help where someone felt despairing, lost or hopeless did not go unseen." Allie also brought this loving approach to her roles as a wife, mother and grandmother.
Allie will be sorely missed by Sibs staff and trustees and remembered for the knowledge, empathy and dynamism that she brought to the role.