The impact of coronavirus on adult siblings
Adult siblings of people with lifelong disabilities in the UK have been and continue to be affected by the Covid-19 pandemic. Read more about the impact of coronavirus on adult siblings here.
Download our report: The impact of coronavirus on adult siblings

Facebook and Twitter polls, May 2020
We asked adult siblings who follow us on social media…
"Coronavirus has made my situation as an adult sibling with a disabled brother or sister: more challenging/less challenging/about the same".
91% selected "more challenging"
5% selected "less challenging"
4% selected "about the same"
"I appreciated the document on self-care during coronavirus. It really meant a lot at the beginning of lockdown to know that you were taking the time to consider our needs, as it was a really difficult watching my parents and siblings go through such a huge change in routine and not be able to help." – Adult sibling
Facebook, Twitter and Instagram polls, April 2021
We asked adult siblings who follow us on social media the same question we posed to them almost a year ago.
"Coronavirus has made my situation as an adult sibling with a disabled brother or sister: more challenging/less challenging/about the same".
91% selected "more challenging"
0% selected "less challenging"
9% selected "about the same"
Examples of comments from adult siblings:

"The lack of face-to-face contact with my brother has been really distressing as he is non-verbal and can't communicate via phone/video calls"

"It's been hard to help my sister understand what is happening. She doesn't know why I can't see her"

"Day services and activities closing have left my brother with nothing to do."

"It's so difficult not being able to visit the care home"

"I'm completely exhausted"
Shielding survey, August 2021
We asked adult siblings who follow us on social media and receive our mailing list to complete the following short survey.
"Are you shielding in order to keep your clinically vulnerable brother or sister(s) safe?"
13% selected "Yes"
8% selected "No"
79% selected "Partially/I'm being extremely cautious"
"Please tell us about how shielding or being extremely cautious to protect your brother/sister(s) is impacting your own life?"
Examples of comments from adult siblings:


"It's made me suicidal but I'm getting through it"

"Lack of understanding from friends and employer who feel that I am being over cautious. Some friends feel I'm making excuses and friendship may not survive"

"Social media really helps. I've not seen another person socially (outside of family and appointments) since Feb 2020"

"It's affected my mental health as I have an additional layer of anxiety to manage"

"I have turned down job opportunities as I am worried that I will catch Covid and pass it on to my brother"

"I love the extra time and bond I've made with my sister"
"Is there anything else you would like to tell us about shielding?"
Examples of comments from adult siblings:


"Push from work to go back to the office is really anxiety provoking"

"It's really difficult as a sibling because you don't get the recognition of perhaps a parent"

"People don't understand my sister's disability and behaviour, how extremely difficult it is to keep her protected and safe"

"Even though my family have all had two vaccines I worry that my sister would need hospital treatment if she catches the virus"

Adult sibling experiences, June 2020
Read the stories of five adult siblings affected by the pandemic in different ways.
Fiona – I feel sick with worry about what the future holds
Thinking about the impact of Covid on me and my family… I don't really know where to start. I am coping and we are coping because we have to. I feel at the minute that there will be a cost to this coping and I am worried about what this means for the future – for my brother's future, my family's future.
We are coping because we have a family member who is extremely clinically vulnerable and needs to be shielded. My brother needs 24 hour care (including through the night) due to complex medical needs. At a time when we had very little support pre-Covid, we now have even less. How does anyone make a decision to allow others into their bubble? Carers who have families and lives of their own – we can make the decision to shield to protect my brother, but we can't expect others to do the same.
As an adult sibling, I find myself at a stage in my life where I am determined to have just that (my own life). But it is so difficult to think about my own needs at a time when the needs of my brother and my family are hugely increased. My parents are not getting any younger and the needs of my brother are increasing. I really worry about for how long we can do this. What will happen after Covid? Will we get the care that we so desperately need? Or will we have to continually fight so that my brother can receive appropriate and dignified care?
Covid has increased anxiety levels in my family hugely. What will happen if my brother gets poorly and needs to go to hospital? What if one of us gets ill? How long can we cope without support? Will my brother be offered treatment if he needs it or will people not see past the disability? So many questions at a time of massive uncertainty and so few answers.
The biggest challenge for me at the moment is juggling. I'm working full-time and supporting my family and my brother at a time when I also feel quite lost in the uncertainty of the situation with Covid. I'm trying not to think too much about the 'what ifs' and just focus on getting through the present moment. I'm trying to make sure we can meet the needs of my brother and I'm trying to stay positive for him.
The thing that I would like people to know about being an adult sibling at the moment is that appearances can be deceptive. To outsiders, and my family, I am coping. I work full-time and help to care for my brother every day. Inside however I feel sick, sick with worry about what the future holds. How long can I continue to keep all of the juggling balls in the air and make sure that my family survives this?
All names have been changed.
Lucy – I had to lock myself in the garage to work and I could often hear my sister screaming in the house
The impact of Covid has been huge. Probably not in such an obvious way as other people, but in ways that have had a cumulative effect on my disabled sister, myself and our parents.
We look after her at home, after she was failed by five care homes. There was neglect, then neglect and misuse of medication, a fire that killed one resident, abuse which was never addressed, and a complicated relationship with the last care home and social services which was horrendously nasty and stressful. The care home hadn't managed to wash her hair in four weeks or give her a shower/bath in three weeks and social services thought this was acceptable and threatened us if we brought her home. In the end we brought her home for good and received an apology from the CEO of the care home company but not from social services, which has since made our relationship with them very fragile and tense.
We did not hear from social services when lockdown began. My parents, probably like many others, worry about rocking the boat and don't like to trouble people. So I would chase social services on social media and the phone until I finally got a response. It took almost two months, and it's always emotionally draining to fight for your parents as well as your sibling.
Our father is on the extremely vulnerable list, both parents are over-70, and my sister needs to shield for her own safety. She has a severe learning disability, low-functioning autism, very challenging behaviour. She bites objects when she's frustrated, angry or in pain. She spits her food out repeatedly throughout the day, asks for snacks and spits half of them out. It's exhausting to keep cleaning up numerous times a day.
It's also tiresome for us to fit our own meals around her. My father is diabetic and he's often dealing with her meltdown when he should be eating his meal because his blood sugar is low. I miss being able to eat a meal in peace – I often have to hide in a corner of the garden or even the garage to eat, otherwise she will want my food as well as hers. If she hears me talking to one of my parents when I try to share mealtime with them, she will get jealous and have a meltdown, so we tend to eat one at a time. I miss eating with company and I miss going out for coffee or a meal by myself.
She has lost her routine of going out every other day to a park or quiet cafe or museum or library. When she used to go out she would often touch objects (doors, tables, handles etc) and touch her mouth. It would be impossible to stop her from doing this now with the virus. She wouldn't wear a mask (or gloves, except in the winter). She doesn't understand anything about the virus or why she isn't going out, why we have no visitors, or why her whole family are at home all of the time. It's overwhelming everyone being at home all the time. Sometimes one of us will pretend to go out, but this doesn't always work – she's very perceptive and often knows when someone has just locked themselves away in a room. She will bite the door and have a meltdown until they "come home".
Her respite worker from the local day centre used to come over for a few hours twice a week. Often it wouldn't make a difference in terms of my sister's care, but I think my mother appreciated having another person to witness the burden of care. Sometimes the respite worker would take her out in her car with one of us, as my sister now needs two-to-one care. So now my sister hasn't seen her, or any other visitors, since the end of March. She will not distance from people so we can't have anyone visit, even in the garden. This has made her even more clingy than before. It's just been a tiny world of her home and garden (she rarely uses the garden) and her parents and sister.
We used to worry when she hadn't been out for a few days, that she would get into a new habit of not going out because of her autism and anxiety. Now it's been months. Even if we could take her safely out somewhere, it may be an ordeal to get her to come out. She is often screaming as she is told to get in a car for a hospital appointment or another appointment that we can't cancel just because she's in a bad mood.
Because of the heat, her bedroom window is often open but she has become increasingly sensitive to noise during lockdown. The neighbours have friends over and children and can be very noisy in their garden. Other people are using this time to have work done, e.g. roof extensions, skips delivered, and it is noisy a lot from 8am onwards. My sister gets very annoyed by the noise, but we can't stop it. She may be wondering why other people are going out but we aren't. For us, her family, it makes us feel more alone and uncared for. Other people seem to be enjoying themselves but we can't.
As the time goes on, we are more exhausted each day, emotionally and physically. It is hard to give her the routine she needs every day when we haven't had a break. We become irritable with each other and tired of supporting each other as well as her. We are sleep deprived because she doesn't sleep well and tires us out in the day and night.
I have had to give up my work as it involves emotional support phone calls to people who are sometimes very distressed – I had to lock myself in the garage to work and I could often hear my sister screaming in the house. I felt guilty about leaving my parents to cope with her when I was supporting someone else. I found it harder to work and suffered from burnout. Now I feel a loss of self-esteem and identity from not working. It is yet another way in which my life is very different from my friends'.
Although I feel especially lonely during this time, I often find it hard to speak to friends. One thing is the timing – the best time for me is early in the morning but most people don't want to/can't chat then. In the day and evening it's very hard with my sister so unpredictable. Also, there are few people who understand or really try to. This alienates me more from my friends now.
I have been very grateful for the support from Sibs during lockdown. The support calls have helped me to talk to someone outside the family who really understands what it's like to be a sibling carer, especially now. The online resources and the new book for adult siblings has also been incredibly helpful and makes me feel understood and that I have worth as a sibling carer and as an individual.
All names have been changed.
Sally - I am an NHS worker. I can't provide care for my disabled brother because of the risk of passing on coronavirus
I am a sibling of a man with learning disabilities. I'm also a single mum and an NHS worker.
My brother moved in with my dad as an emergency placement in December due to abuse from his carers in his supported housing. It got to a point where my brother was so scared of the risk, he had to leave the house immediately. Since then he has been moving between family houses – my mum's, my dad's and mine.
In February, we requested that some care was still provided as my brother is now scared of carers and my dad is 72. My dad was spending all his days driving my brother to his different activities to keep his routine going. This was the reason he was coming to all of our houses to allow my dad respite. Since lockdown he has been stuck at my dad's.
I can't help due to my job and the risk of passing on Covid. He has lost everything, literally. The government told him to stay home, so he won't leave the house. The social worker calls him every now and then but there has been no care provided, no suggestions of anywhere he can move to. He wants to live in a flat alone with the support he requires. He didn't realise he was going to be stuck with his dad for 6 months plus. What 43 year old wants to live with their dad?
He has challenging behaviour, mostly self-neglect, and that puts a huge strain on the relationship with my dad. In terms of mental health, it's impacting on both of them. There has been one call from the community team to complete a tick box risk assessment. They called him once and told him he could go out for a walk. He still won't go out and they didn't follow up on this at all.
As a sibling I've found this really hard. I feel very guilty that due to my job I can't help him. My dad has all the strain with no carers or respite. I try my best to video call but it's not the same as being there and helping with tensions. I'm going around today for the first time to have a cup of tea in the garden (I couldn't do this before because my son finds it really upsetting to keep a distance and now he is at school I can finally go).
I do, however, think we are lucky. If he had been in supported living we wouldn't have been able to see him at all and he would have really struggled. I see the carers in his house all masked up. It would have been scary for him.
However, the lack of social care support and this limbo we have all been in, because he can't move, has been really hard. Services always overestimate him and 6 months on we still don't have a care plan for him. We are waiting for the fight to get him the care he needs, so we have this worry hanging over us all the time.
I also really just want to give him a hug. I want to remind him that his family loves and supports him (the carers repeatedly told him we didn't). This situation really isn't helping us with improving his mental health after the abuse. I really worry about his mobility, his mental health and the fact he will have forgotten bus routes etc when he gets out again. He will be much less independent because of lockdown and that will really be upsetting for him because independence is the most important thing for him.
All names have been changed.
Esther and Judith – Both our disabled brother and mum needed care during lockdown, so we divided the responsibility between us
We are Esther and Judith. We're sisters to our brother, Jonathan, who is autistic and has a learning disability. He has a weekly routine of activities and supported training placements. In March, the café he works at closed, and the rest of his activities, including all social and sporting groups, were cancelled. This left Jonathan without any structured schedule to his day. One of his key support workers was off work for over a month, and his team was reduced to just one member of staff for the first month.
Initially, dad took over organising Jonathan's care, sorting out the shopping and taking him for walks almost every day. Then mum became ill, and dad was no longer able to visit Jonathan because of shielding restrictions. Mum was in and out of hospital.
So we decided to divide up the care between us. Esther moved out of her flat and moved into our parents' home to take care of her Mum and Dad. Judith took on more responsibility for Jonathan.
Judith: Jonathan and I have always been close, but I've never had to have a "caring" relationship with him before. I always knew that, one day, my sister and I would take on more responsibility for his care, but I never expected that to happen so soon and so suddenly. Throughout lockdown, I've been trying to give him some structure by taking him out for a long walk in the nature reserve near where he lives, 4 days a week. I've been liaising with his support staff to come up with ideas on how to talk to him about the situation, help him cope with the change in routine, and how else to give structure to his days.
It's been challenging being thrown into this role so suddenly. I'm trying to juggle it with working full time; often making up for missed work hours in the evenings and weekends. It's also been really difficult trying to manage his expectations. He knows that he can't do everything he usually does because of the coronavirus, but I don't think he fully grasps what that means. It's been hard to see him upset – sometimes to the point of tears – about not being able to spend time with the rest of our family and friends.
In the early days of lockdown, when he was struggling the most, he was often tearing up his favourite objects, biting himself to the point of leaving bruises all over his arms, refusing to engage with anything or anyone. Thankfully now the restrictions are less strict he's a lot happier and has settled into his new routine well, but for those first eight weeks of complete lockdown it was a real challenge.
Esther: I often feel guilty that as I can't drive I can't visit Jonathan and take him on walks like my sister does. I can't provide her and the care team with any respite. Instead I can only speak to him on the phone. This has made me feel left out. Seeing how my sister has had to cope with a full-time job, our mum being ill and being the sole family member providing care has made me feel incredibly guilty for having the luxury of not being in a place where I am responsible for Jonathan's care.
At the start of lockdown I was getting video calls from him maybe ten times a day. Most of the conversations were around his anxiety at not understanding why he couldn't see family and continue as normal. It's been incredibly difficult to see him so upset on the phone and knowing that I can't explain the situation in a way he can understand and that I can't visit him.
As I am working from home and providing additional support to my parents, the addition of ten phone calls a day really affected how well I was coping with the situation. I found myself choosing to ignore his phone calls rather than talk to him, because I didn't want to see him upset, and I didn't want him to feel jealous that I was with our parents, but he couldn't see them.
When the restrictions eased last week, I saw my brother in person for the first time in nearly 3 months. Normally I see him once a week. It was so amazing to see him again in person, and see how happy he was being out of the house and around more family members. Jonathan initially struggled with social distancing, but by the time I saw him last week he knew that we couldn't hug and had to sit far apart.
I want people to know that there are a number of different roles that adult siblings play in lockdown. In my family alone we have two distinct roles: My sister is now a carer and activities coordinator in addition to being a sister, while I remain just a sister. She has taken on so much more responsibility and handled the early challenges of helping Jonathan adjust to lockdown life.
In contrast, I've been fairly cut off from his situation and left feeling incredibly guilty that I am not helping him, I am not caring for him and beyond a few video calls I am not engaging with or entertaining him. The pressure that we, as siblings, should care for and be responsible for our disabled brothers and sisters, either now or in the future when our parents are no longer able to, is constant and has been exasperated by the lockdown. I feel conflicted, sad and frustrated by my inability to see and care for my brother. I can only imagine how much more difficult it is for people who are currently living with their siblings, providing full time care without much respite, if any.
Devi – The last 3 months have been an endless cycle of working and caring
My brother is in his 50s and lives semi-independently with the help of myself and carers. Before coronavirus was an issue, he spent his week doing activities at a local centre and enjoyed drumming and ballroom dancing lessons. My brother has anxiety and traits of autism, so these activities were great for helping him to socialise and learn new skills and he got stability from his weekly routine.
In early march, we started to get the idea that things were going to be bad. We started to make adjustments to our lives, cancelling visits to family members and asking our elderly mother to stop going out.
As all of us have been experiencing, the Covid situation has meant all our worlds have been turned upside down. There has been a loss of routine, control and peace of mind that we had for the most part before all of this.
Supporting my family through this time has been one of the hardest things. I visit them once a week and spend the rest of the time supporting on the phone. The news was full of pictures of helpful neighbourhood groups offering to drop off bags of shopping for people shielding at home, but most people do not understand what goes into being an unpaid carer. It goes far beyond shopping, in fact shopping is the easiest thing to take care of.
The last 3 months have been spent balancing the mental and physical health of my family. I am currently taking care of 1 parent, 1 brother and 2 children of my own. All while working full-time and attempting to home-school both children.
For me the biggest challenges have been:
1. Keeping everyone safe. My mother is in the at risk group for severe issues should she get Covid, so has been told to shield. I wouldn't be able to keep my brother away from her – he wouldn't cope mentally, so I've had to try to get him to distance as much as possible when he does see her. If he was to shield with her, neither of them would cope. My biggest fear is he will bring coronavirus into mum's house and it will kill her.
2. Getting my brother to understand about distancing and hygiene. My brother is used to popping to the shops when he feels like it. I have been trying to impress the seriousness of the situation on him, but without scaring him. The panic buying at the beginning of lockdown scared him. When he went to the shops, he couldn't buy any bread for 3 days running.
3. Keeping my brother amused. When he's bored, he gets upset and he'll start upsetting my mother. His carer has been really helpful. He has been taking him for walks and playing music with him which has really helped.
4. Managing someone else's life admin remotely. I run my brother's finances and have to deal with the bank as well as local councils and the Department for Work and Pensions (DWP). This can mean long periods trying to deal with things on the phone and security measures. Despite having a registered Power of Attorney, I still have to get my brother to speak to someone on the phone to allow me to talk on his behalf which means I have to go and see him during working hours.
5. Providing emotional support. This has been the hardest things to deal with. I get around 5 phone calls a day from my brother and mother at the moment. He hasn't been well, so over the last few days it's been more like 10.
6. Other people triggering him. People don't understand the impact of seemingly small changes will have on him. He had a fence replaced at his house, but a bush was removed without telling him it was going to happen which triggered a huge meltdown. This had to be managed over the phone by me, and in person by his carer. His emotions are very close to the surface and for the most part he's been coping really well, so things like this can have a massive impact.
7. The lack of support. All services stopped with lockdown.
Without doubt the hardest thing has been that there is no time off. The last 3 months have been an endless cycle of working and caring. It is hard to sleep and I feel emotionally drained.
We have had some fun times, but the hardest thing about being an adult sibling is that I don't get to enjoy the fun side of my brother that other people see. I am the one dealing with the issues and imposing boundaries to keep him settled and safe. People don't understand the challenges and it can feel very lonely. It has been incredibly tough on my mental health. I am pulled between my brother, my mother and my family.
Adult sibling experiences, December 2020
Read updates from adult siblings Fiona and Judith.
Fiona, 6 months on - Daily life in a bubble with a shielding brother is really tough
I struggle to think about the last 6 months of life as a sibling in Covid times, such a kaleidoscope of thoughts, feelings and experiences. Some days I feel like time is flying by, other days are long and difficult and loneliness really hits hard.
The loneliness of the last 6 months has been really hard, I feel very disconnected from many areas of my life. I have had almost daily contact with my brother and I am really very grateful for that, but I am also exhausted and feeling like I'm very out of touch with my own needs and my own life. Relaxing and winding down has never been more difficult. I work full-time and as Christmas gets closer I am counting down the days to being able to switch off the work part of my life for a couple of weeks.
Daily life in a bubble with a shielding brother is really tough. I worry constantly about how any decision I make will impact my brother and what other family members in the bubble will think of what I do. I have found myself feeling anxious and questioning everything I do. Things that are generally viewed as relatively 'safe', such as distanced walks outside with friends, are big decisions for me still. My world feels very small and video calling is great, but definitely not the same. I find myself feeling a bit jealous sometimes of other single people's support bubbles as places where they can retreat and relax, especially with Christmas coming. Then I feel guilty for feeling jealous. The day when I can freely meet up with friends and relax again cannot come soon enough.
Through writing about my experiences for Sibs I became aware of the support that Sibs offers to adult siblings, this support has been amazing. Talking 1:1 and attending online support sessions where I have had the chance to meet and share experiences with other siblings has been more than helpful. Words really don't do it justice. We have laughed, cried and most importantly connected. Contact with Sibs over the last 6 months has validated my experiences and allowed me to know in this difficult time that I have a voice too. When I feel lonely now, I can think back to this support and these experiences and I know that actually I am not alone. I know that other siblings 'get it'…that I can be seemingly coping fine, but actually I am exhausted and still struggling to keep all of the juggling balls in the air.
For the year ahead I am hopeful that there will come a time soon when my brother can start to do all of the things he has been missing in Covid times. It's so hard that he don't understand why all of a sudden his life changed so dramatically and he lost access the things he loves to do. Many of these things that my brother loves are actually essential for his health and wellbeing, access to therapies like hydrotherapy have been a huge miss. When things start to return to pre-Covid times for my brother and family, then I am hopeful that once again I can get back to a bit more of having my own life.
All names have been changed.
Judith, 6 months on - The company providing my brother with care & support have been fantastic
How have the last 6 months been for you as a sibling?
The last 6 months have been immeasurably better and easier than the first 3-4 months of the pandemic. The company providing my brother, Jonathan, with care & support have been fantastic. They had a recruitment round over the summer, which means he's now back to having full, round-the-clock support from a team who really understand him and his needs. He – like everyone – is still frustrated and bored with lockdown and having no activities, and I'm never fully sure of the extent to which he understands why he can't live his usual life. That said, he has been taking it in his stride and we have worked together with his support team to create a kind of structure to his day. In the initial lockdown, I stayed in London – separately from my partner, who is in Oxford – in order help with Jonathan's care, while my sister Esther moved in with our parents to help look after our mum. As we described at the time, that was a huge challenge for us both. Since the introduction of support bubbles, Esther (who is currently living alone) has been able to move back to her flat but form a bubble with my parents, while I have been able to move to Oxford as Jonathan's support needs are now fully met by his team. The fact that, for now at least, people can meet up with someone outside their household on a one-on-one basis for exercise also means that Jonathan will be able to see other members of the family, and won't be completely isolated as was the case first time round.
What has been hardest?
For me, the hardest thing has been managing Jonathan's expectations when nobody knows the answers to the questions he's asking. Despite the amazing work of everyone supporting him, he's increasingly bored and frustrated. Although it was fantastic that he was able to start going to some of his activities, see more of family and other people and visit places like London Zoo during the summer, I'm concerned that having all that given and then taken away again will be hard for him to handle. I do feel a sense of guilt at having gone to Oxford when the rest of my family's in London, meaning that I'm no longer able to provide that care – although of course if it's needed again, I would come back at the drop of a hat. I wish I didn't have to choose between my partner and my family, but I'm also aware that I'm in a hugely fortunate position right now.
What has helped you the most?
I've felt particularly close to my family over the past few months, and although we bicker like any family, I've been so grateful to be near them.
What are your thoughts for the year ahead?
I'm cautiously optimistic. I am nervous for the next 2-3 months – both about the risk of infection to those I care about, and about the impacts of lockdown – but I hope that, having coped for over 9 months already, we are now entering the final push before things can start to slowly return to normal.
Judith wrote this for Sibs in December 2020. We are pleased to report that Judith's parents and brother have now had the coronavirus vaccine.
Adult sibling experiences, August 2021
These stories were anonymously shared as part of our shielding survey.
Lack of contact when my sister has been critically ill has been hugely stressful
"I'm being cautious for family and personal reasons generally, not just because of my sister. Several members of our family (parents, my partner) are extremely vulnerable or have other health issues. Also, I'd prefer not to take the risks to my own health anyway, so there are personal reasons for my behaviour as well as family reasons.
Unfortunately, my sister got Covid anyway through her care home and she has been critically ill. I wasn't able to visit her during lockdown and I'm being very careful to protect both of us when I visit her now in her care home (short visits, lots of PPE, open windows, etc.) and a lot of the contact is by phone or video calls. Her main risks currently are probably via her care home rather than from me (hopefully she now has some immunity).
I don't think protecting my sister generally has much extra effect on me because I would be taking this action anyway for my own health protection and for other family members. It has, nevertheless, meant that I am not able to see her as much physically as I previously did, but we are more in contact by remote means. Travel to see my sister is very difficult because we live several hundred miles away. In the past, I could have easily travelled by train on my own, but now (due to the Covid risks) I am having to ask my partner to drive me to see her (as I don't drive myself) and that puts extra pressures on him. The logistics of handling this distance caring are a worry, but hopefully we will get through this okay.
For our family, lack of hospital access has been a real issue (my sister was in hospital for 5 months following her Covid infection). Not so much the limited physical visits (we realise we can't always see my sister in a Covid ward and ICU), but the extreme lack of supported virtual contact (only one supported video call a week, at most, to family (mainly my father) via the hospital learning disability nurse). My sister can't make calls on her own and many of my requests to speak to her were ignored or overlooked by the hospital learning disability nurse. Now my sister is back in her care home it is better since I can phone when I want and the care home encourages this. This lack of contact when my sister has been critically ill has been hugely stressful (making a difficult situation much worse than it needed to be), but fortunately she is out of hospital now."
I am careful where I go prior to his visits as I am still worried about the virus and I want to protect him (despite us being double vaccinated).
"In 2020, my brother came home for lockdown – I shielded with him. I worked from home. I did not go out because I was worried for my brother's health and safety. No problems here, I was just so happy to happy to have my brother home.
2021 – My brother returned to his residential (January). This was tough for me because of the restrictions. On an emotional/mental health level this was very bad for me but for other things (work, social life) this did not affect me (despite losing work). My brother is now permitted to visit the family home (this started in July) but on a fortnightly basis. I am careful where I go prior to his visits as I am still worried about the virus and I want to protect him (despite us being double vaccinated).
So at the moment I only go to: his residential (for 1 hour visit a week), gym, and supermarket. This may all change in the Autumn, as I am expected to teach face-to-face. I am worried especially about commuting on a daily basis. I am more concerned about catching the virus and passing it on to my brother.  I can't risk losing the work though (I lost a lot of work in 2020)."
Early on in the restrictions my biggest worry was that my brother would bring the infection to me
"It's difficult to gauge exactly how much my brother understands about COVID. He does know it's an infection but he doesn't seem to see how he or his actions fit into the bigger picture. For example, a year down the line he needs to be reminded to wear a mask and even then doesn't wear it properly.
Our lives haven't changed that much in restrictions, however I don't go anywhere except Tesco and the petrol station and to walk the dog in quiet areas. Maybe I'm a bit of a control freak and it makes me anxious that I can't control the random people I would have had contact with pre-COVID so I choose not to put myself in those situations. Early on in the restrictions my biggest worry was that my brother would bring the infection to me. I have health issues and he has asthma.
My brother has Asperger syndrome, he gets anxious and those anxieties have increased. This leads to his eczema getting worse, which means I have more physical caring duties as he tends to be non-compliant with medication at the best of times. I don't know how everyone is going to relax in the future"
As a new graduate I feel I'm missing a lot of opportunities that you could normally go for
"I've been unable to work for a year, and now that I'm starting work again I've been so worried about the risks. It's taken a toll on my mental health, but financially I have no choice but to work. Having any sort of social life is hard when everyone else is going out again and you have to say no to things or ask for plans to be changed so it's safer (i.e. outdoors and distanced). As a new graduate I feel I'm missing a lot of opportunities that you could normally go for. It's also taking a toll on our family life, not being able to have a break from each other."
I'm single and I'm scared that I'm missing my window to meet someone to share my life with and have children
"I moved back in with my brother and our parents from March until December last year so that I could shield with them. We had no support in the house from March until August. My brother didn't leave the house for months on end.
Until this July I hadn't stepped foot inside anywhere besides our family homes other than to have my covid jabs. We have had everything delivered and have cleaned it at the doorstep before bringing into the house. I stopped having chiropractic treatment until after we had all had our 2nd jabs so have struggled with additional pain and tension in my back. I feel so isolated and lonely.
The scrapping of restrictions feels so scary, numbers are so high I think we'll be pushed back into full shielding. My brother has 2:1 high level support needs 24/7. We have 1 PA that has shielded in our bubble, she works 27 hours a week so the other 309 hours of cover is shared between myself and our parents.
My main coping strategy to deal with my depression and anxiety was always to travel and visit friends both in the UK and around the world. I haven't been able to visit friends since March 2020. I've seen my best friend from a distance because she lives 30 minutes away but so many friends I've only seen virtually. I'm single and I'm scared that I'm missing my window to meet someone to share my life with and have children."
Millions who continue to shield cannot be forgotten
"The Government needs to do more to acknowledge and help people and their families who are continuing to shield. There needs to be a clear message. They have said we should go out (to supermarkets etc) when it is quiet now that masks are not mandatory. This is not acceptable. Masks should be mandatory in places where people need to go such as supermarkets, public transport etc so people can be/feel as safe as possible. Pubs, clubs etc are a lifestyle choice, the use of public transport to get to essential places isn't. Millions who continue to shield cannot be forgotten…also those with long covid including many younger people with no vaccines.
There should also be a clear policy on school ventilation (including Hepa filters, co2 monitors) especially in primary schools where testing is not routine. There are many people shielding who have primary school children in the household. Inadequate ventilation policies are putting both the children and their vulnerable family members at risk. There are actions which can be taken but the UK Government seems to have other priorities."
Just as everyone is enjoying more freedom, I now feel like I have to take a step back
"I think the general attitude now is that everyone needs to get on, the vaccine protects us and you can't live life totally risk averse. I wonder if people would be as confident in that opinion if they were having to make that risk assessment about someone else's life. If they were extremely vulnerable and unvaccinated how would they feel?
I'm used to not having much social life as I am the main carer but throughout the pandemic I have at least made sure I saw my friend for a couple of hours every week. She lives alone, works from home and it felt safe and helped both of us stay ok mentally. Now she is mixing much more, getting some life back and sometimes I now have to think about how safe it is to meet her if she's been busy. Just as everyone is enjoying more freedom, I now feel like I have to take a step back, just incase I bring it home."
Adult sibling experiences, 2022
Read the stories of two adult siblings as they share how things are now and reflect on the past two years.
Fiona, 2 years on - I feel bewildered and disorientated
Where am I? Almost 2 years on – that is a good question and it feels like it is very difficult to answer. I really want to write this update and tell a story of everything being great – that I am back to doing the things I love. The reality is that I feel bewildered and disorientated, there is so much going on in the world at the moment.
I desperately want my brother to be able to reclaim aspects of his life, including the therapies that he desperately needs, but Covid is still preventing this. Covid is still a very real threat for my family. My brother doesn't understand and he can't wear a mask, so it would be incredibly difficult to keep him safe if we were to venture anywhere indoors.
In December 2020 I said "daily life in a bubble with a shielding brother is really tough" and that hasn't changed, it feels tougher if anything. I still feel that kaleidoscope of thoughts, feelings and experiences – I think perhaps a rollercoaster feels like a more accurate metaphor now. It isn't pretty like a kaleidoscope, rather it leaves me feeling a familiar "sick with worry". My feelings of disconnection are amplified, more than ever now – I feel like people are moving on, and fast, right before my eyes. I want to catch up and be with others, but with masks off and cases rising it just doesn't feel safe. I miss being in the same physical spaces as friends so much, I really yearn for the day when I can feel safe enough to do this again. I meet friends outside, but these often shorter connections in open spaces just aren't the same.
I've not lost hope, but I am so very fed up. Connecting with other siblings who just 'get it' has kept me going and continues to do so – thank you Sibs!
All names have been changed.
Sally, 2 years on - I am now classed as disabled and have my own blue badge. I feel really guilty to have given my parents another child with a disability
During covid my whole life changed.  I work for the NHS on a critical care unit and am a single parent to a little boy. My dad and mum usually help out with adhoc care. My brother Mark has learning disabilities, and in December 2019 he had to move in with my dad as an emergency placement as he was abused by carers in his supported housing.  My dad and Mark were shielding. My mum was also shielding with my step-dad. My dad and mum usually help out with adhoc care for my son, so all my support systems were suddenly removed. I had to work (whilst my son went to keyworker school or the childminder), then look after my son and provide food and other deliveries for both of my parents and my brother. I couldn't look after my brother, because of the risk of passing covid to him from work, and I felt really guilty about this. My 72 year-old dad had all the strain with no carers or respite. In May 2020, I was positive for covid.  Since then – 26 months now – I have had Long Covid.  I have trouble with fatigue, brain fog, high heart rate, shortness of breath, dizziness, gastro issues and was unable to return to work until February 2022.  I am now on a phased return, working from home and gradually building up my hours.  I am now classed as disabled and have my own blue badge.  I feel really guilty to have given my parents another child with a disability (all be it a very different kettle of fish) but I find myself trying to downplay my disability because of course it isn't anything like as bad as my brothers. No-one could see how ill I was or help me either as they were still shielding. Throughout all of this, I still had to battle with social services to get care for my brother. It took a year to get my brother the care he needed, but he now lives in an annexe attached to my house and we have the loveliest relationship.
All names have been changed.
Sarah - Covid is a very real threat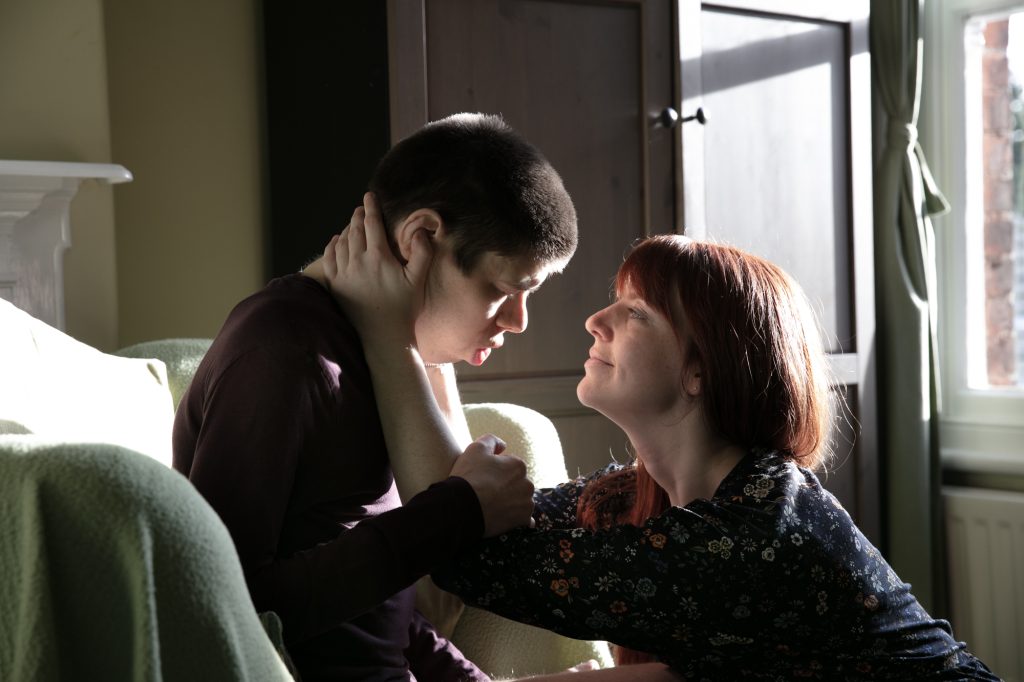 Living through the pandemic coronacoaster has been even more challenging for those of us who have been shielding to protect clinically vulnerable siblings.
My brother Dan has Profound and Multiple Learning Disabilities due to a rare genetic condition called ATRX. Our younger brother Sam who had the same condition passed away suddenly from sepsis and pneumonia in 2019. The risk of Covid for Dan is a very real threat, he's had hospital admissions in the past for breathing difficulties. He is unable to tolerate wearing a mask and therefore struggles against ways of easing his breathing if he gets into difficulty.
Our family went into full lockdown on the 17th March 2020 a week before any restrictions were put into place by the government. I moved back into my family home and for more than 3 months myself and my parents provided all of Dan's care. We had to rely on neighbours to drop off food until we secured a delivery slot, I went on remote walks on my own and Dan had to adjust to being inside the house for 101 days. I was humbled by how Dan adapted to this new normal, fearful for how he would manage returning into busy environments. I had no idea that 2 years later we would continue to be struggling to keep him safe.
We've had to advocate for Dan's need to be on the shielding list, his need to receive the vaccine ahead of others in his age group, the need for the vaccine clinic to accommodate reasonable measures for him. We've had to tolerate the narrative of 'vulnerable people should stay at home so we can get back to normal' which is both hurtful and pointless, Dan isn't safe to simply stay at home unless every person that provides his support is able to test before coming into contact with him.
We have missed our favourite activities as much as the next person, the main difference is that whilst generally the public may be celebrating an end to all restrictions, I'm afraid I'm going to lose the freedoms that those 'restrictions' allowed me. Zoom choir allowed me to continue to be part of a community that I've been a part of for 14 years, now because I don't feel safe to attend in person I've had to give up my membership.
My parents went for lunch last week, they entered wearing masks and asked to be seated near to the door in a quieter area only to be informed by the waiter that restrictions had ended. I have cautiously been able to meet with a couple of friends in a well-ventilated area, keeping my distance and knowing that those friends had been able to take a Lateral Flow Test (LFT) beforehand to keep Dan safe.
When the Government announced the end to all restrictions including the free access to LFTs it caused a peak in my anxiety akin to the very start of this pandemic. I've started a petition asking the Government to continue free access to LFTs after the 1st of April. Currently in England the plan is to allow support workers and people who are Clinically Extremely Vulnerable to Covid like my brother access to a test if they have symptoms. This is not good enough, we need to protect those who are vulnerable to Covid from coming in to contact with those who are carrying the virus in the first place. Please help me raise awareness of this issue by signing and sharing the petition.
Photo credit, Paul Wenham-Clarke Our Human Condition
Sarah-Jane - It was stressful supporting my sister through a major operation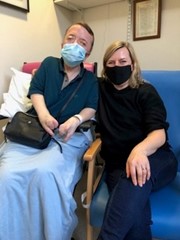 This pic was taken in autumn 2020 when my sister Carol had just had a hip replacement at Hinchingbrooke hospital in Cambridgeshire. It's not the most glamorous pic but then, it's not always glamorous being a sibling is it?!
Carol has Apert Syndrome which for her means she has some physical and some mild learning disabilities.
Carol had the hip replacement during covid restrictions so visitors were not allowed. This was our first visit to see her a few days post-operation when the hospital staff realised Carol really needed a little lift as she was feeling a bit down so they arranged for my husband and I to see her in a private room for a short while.
You can see the relief on our faces of being able to see each other! It was difficult for her to go through a major operation by herself and stressful for us to not be able to visit. As a sibling supporting my sister, there was a lot of driving from West London to Cambridgeshire to take clean clothes to her; trying to work out what she needed and taking home clothes that needed washing (without being able to actually see her) as well as preparing her home with mobility aids for her return. It was quite stressful.
I feel so thankful to the skilled surgeon, the kind and brilliant NHS staff who looked after her and also extremely proud of how brave, resilient and independent my sister was during this time.
She is now (over a year later) completely recovered and so much more mobile. She has shown real determination and is able to walk to her local shops, walk up stairs and has her life back!
"Contact with Sibs over the last 6 months has validated my experiences and allowed me to know in this difficult time that I have a voice too. When I feel lonely now, I can think back to this support and these experiences and I know that actually I am not alone. I know that other siblings 'get it'" – Fiona, adult sibling
More information
You are not alone