Camp in the Cloud for siblings and their families
Sibs is turning 20 this year and to celebrate our very special birthday we have teamed up with Over the Wall to provide a Camp in the Cloud for young siblings who have a brother or sister with a health condition, and their families. This will be talking place on Sunday 12th September. This will be a fun packed event with opportunities for siblings to have fun with their brothers and sisters, as well as adult carers.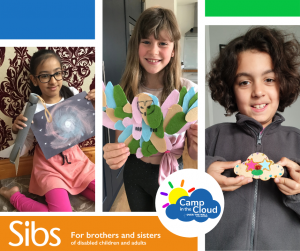 What is Camp in the Cloud?
Camp in the Cloud is a brilliant virtual programme, where sibling campers and their families can experience the magic of an Over The Wall camp from the comfort of their home. Campers are given exclusive access to the Camp in the Cloud platform, where they can get involved with a mixture of online and real-life activities. There are opportunities for campers and families to interact in real-time with others who are attending the same Camp in the Cloud, through secure message boards and fun video calls.
Will I have to pay?
No – there is no charge to families for Camp in the Cloud.
Will I need any equipment to take part?
No – Campers are sent our 'Seriously Fun Box' in the post, containing every single resource they need to take part.  This includes games and art and craft materials.
I don't have access to wifi or a device, can I still take part?
Yes absolutely! Devices with pre-loaded data can be sent to those who don't have access to the internet.
What age group is the camp for?
One child in the household must be aged 6-17 years.  There isn't a restriction about the number of children who can participate in your family.
Are there any other qualifying conditions?
Yes – this camp is for siblings whose brother or sister has had or has a health condition.  The child with a disability or health condition must be able to participate in camp activities.  Health conditions include, but are not limited to:
Blood disorders (e.g. Sickle Cell Disease, Haemophilia)
Gastrointestinal disorders (e.g. Inflammatory bowel disease, TPN-dependent)
Cancer and Leukaemia
Rheumatological conditions (e.g. Juvenile Rheumatoid Arthritis, Lupus)
Immunological disorders (e.g. HIV, primary immune deficiency)
Respiratory disorders (e.g. Severe Asthma, Cystic Fibrosis)
Skin conditions (e.g. Severe Eczema, Epidermolysis Bullosa (EB)
Severe Allergies
Heart conditions (e.g. Congenital Heart Disease)
Kidney disease (e.g. Polycystic Kidney Disease, Renal Failure)
Liver diseases
Neurological disorders (e.g. Epilepsy, Spina Bifida)
Neuromuscular disorders (e.g. Friedreich's ataxia)
Organ Transplant
Endocrine disorders (e.g. Diabetes)
My disabled child has complex learning disabilities and behavioural challenges, can we still apply?
Sorry, on this occasion this won't be possible.  The eligibility of the camp has been set by Over the Wall and Sibs cannot make any changes to this. The nature of the camp means that children will need to be able to independently participate in activities, be able to communicate independently, as well as be able to use technology.  Children will need to have the social and emotional ability to participate in family activities.
I want my family to apply, but I am still not sure if we will be eligible, what do I do?
All of the administration of the event is being handled by Over the Wall. If you have a question about your family situation do contact them direct on 02392 477110 or email campers@otw.org.uk  .  If you would like to apply or find out more – check out their link here https://www.otw.org.uk/event/sibs-family-camp/
To apply – follow this link
We look forward to meeting lots of you at Camp in the Cloud!