Celebrate National Siblings Day – Saturday 10th April 2021
Join us in celebrating National Siblings Day - a global awareness day recognising brothers and sisters! At Sibs, we know what a valuable role siblings play in the lives of their disabled brothers and sisters, how unique their relationship can be and how they need to be recognised and celebrated in their own right too.
Why is National Siblings Day important?
Siblings who grow up with a disabled brother or sister often spend a lot of time coming second (or third or fourth…) to the needs of another. Their day-to-day life may centre around their brother or sister's routine and their abilities. It can be challenging to share time with parents and some siblings may be helping out more around the home or with caring tasks.
As adults, siblings may have the longest-standing relationship with their disabled brother or sister across the lifespan, beyond that of care providers, professionals and other family members. Siblings are often advocates for their brother or sister's needs whilst juggling a work and family life of their own.
Many siblings enjoy and value the unique connection and relationship they share with their brother or sister. National Sibling Day is a wonderful opportunity to shine a light on the value of sibling relationships, to highlight what an important role siblings play in the lives of their disabled brothers and sisters and to celebrate siblings in their own right too.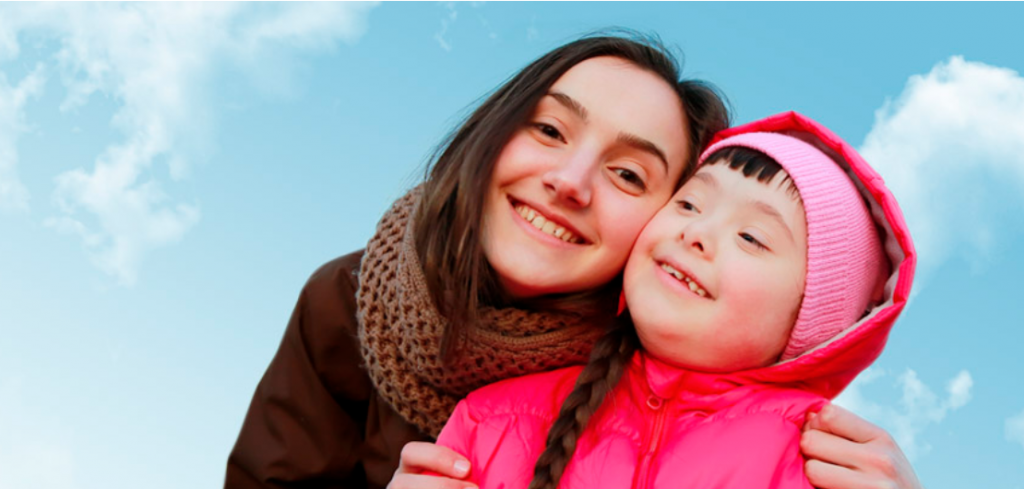 How can I get involved?
Our theme this year is #ItsaSiblingThing:
Young siblings check out our YoungSibs website where we have a blog piece all about #NationalSiblingsDay2021 and how you can get involved.  Why not have a look at what BBC Newsround said about National Siblings Day including some Top Tips for Siblings?  You can also find colouring sheets at the bottom of this page.
Adult siblings can share the joy on social media with snippets, stories and photos. What's your favourite childhood photo? What made you both smile or laugh when you were kids? Tell us your #ItsaSiblingThing and join the conversation. You can find more ideas of how to mark the day as an adult sibling here
Parents, don't forget to tell us about those little sibling moments that have made your heart burst with pride – you know the ones – it's just something unique between your disabled child and their brother(s) and sister(s) – #ItsaSiblingThing. Want an activity to share with your sibling child? Download our young sibling activity sheets at the bottom of this page
Organisations, charities and schools – we would love your support in raising awareness of siblings of disabled people! Let us know how you plan to celebrate, whether it's with a classroom session, a sponsored event or sharing on social – we really appreciate you taking the time to recognise and acknowledge siblings on this important day
Social media
Make sure you're following us in your favourite way to stay in touch with the conversation and the lead up to the day:
On Saturday 10th April, we'll be using these hashtags: #NationalSiblingsDay2021 #ItsaSiblingThing
Donations and fundraising
We greatly appreciate all donations and fundraising efforts, especially during such difficult times. We are the only UK charity dedicated to the needs of siblings of disabled people and we provide support across the lifespan – from young siblings to older adults.
'As a young carer, you feel under constant pressure. I know my sister needs constant supervision: I understand her different needs, and I love her with all my heart, but it can be scary. It can feel like the world is on your shoulders. I worry about her future and I feel like I have an extra layer of worry.' – Rose, aged 13
"I feel like I have been on an emotional roller coaster with Frazer all of my life. I often feel he has been given a raw deal but he is happy and enjoys his life and never complains.  I love him and want the best for him, we have a lot of fun together. We have a shared history. I know all the things about him, things that make him happy or sad. I will fight for his needs always." – Jayne, adult sibling
If you're planning a murder mystery night on Zoom, sponsored laps around the park or a 24-hour TV challenge – please get in touch – as we'd love to say a huge thank you. You can set up a Virgin Money Giving page here.
You can become a Friend of Sibs for £25 a year by signing-up here or you can make a donation of any amount – however small – here.
Free resources to download
You can download these graphics to share on your social media to support us and raise awareness:
"Let's celebrate National Siblings Day" media pack
Download "Let's celebrate National Siblings Day" – Twitter post
Download "Let's celebrate National Siblings Day" – Twitter banner
Download "Let's celebrate National Siblings Day" – Instagram post
Download "Let's celebrate National Siblings Day" – Instagram Stories
Download "Let's celebrate National Siblings Day" – Facebook page banner
Download "Let's celebrate National Siblings Day" – Facebook post
Download "Let's celebrate National Siblings Day" – Facebook profile banner
Download "Let's celebrate National Siblings Day" – LinkedIn post
Download "Let's celebrate National Siblings Day" – LinkedIn banner
Download "Let's celebrate National Siblings Day" – A4 poster
"I support National Siblings Day" media pack
Download "I support National Siblings Day" – Twitter post
Download "I support National Siblings Day" – Twitter banner
Download "I support National Siblings Day" – Instagram post
Download "I support National Siblings Day" – Instagram Stories
Download "I support National Siblings Day" – Facebook page banner
Download "I support National Siblings Day" – Facebook post
Download "I support National Siblings Day" – Facebook profile banner
Download "I support National Siblings Day" – LinkedIn post
Download "I support National Siblings Day" – LinkedIn banner
Download "I support National Siblings Day" – A4 poster
"We support National Siblings Day" media pack
Download "We support National Siblings Day" – Twitter post
Download "We support National Siblings Day" – Twitter banner
Download "We support National Siblings Day" – Instagram post
Download "We support National Siblings Day" – Instagram Stories
Download "We support National Siblings Day" – Facebook page banner
Download "We support National Siblings Day" – Facebook post
Download "We support National Siblings Day" – Facebook profile banner
Download "We support National Siblings Day" – LinkedIn post
Download "We support National Siblings Day" – LinkedIn banner
Download "We support National Siblings Day" – A4 poster
Activity sheets for young siblings
Download National Siblings Day young siblings colouring page – ages 5 – 11
Download National Siblings Day young siblings mindful colouring page – ages 12 – 17
Download National Siblings Day young siblings writing page
Download National Siblings Day young siblings drawing page