Check out our National Siblings Day 2023 Giveaways!
3 copies of Me and My Sister by sibling author Rose Robbins
Me and my sister is a picture book written for children, about growing up with an autistic sister.
"Delightful picture book! Young siblings who are growing up with an autistic brother or sister will readily identify with the sibling experiences depicted. This is a lovely book for parents to read with young siblings and will help start those conversations about the enjoyable and difficult aspects of their family lives." Monica McCaffrey
Win a family home movie night!
Wonder is a film telling the story of Auggie a boy born with a craniofacial condition.  Part of the story is told by Via, Auggie's older sister, who begins high school at the same time that Auggie starts middle school. Via has had to come to terms with the fact that her family's world revolves around Auggie and his needs; hers often get pushed to the side. This is a great family movie for siblings  to share.  Comes with popcorn!
3 copies of brother.do.you.love.me by sibling author Manni Coe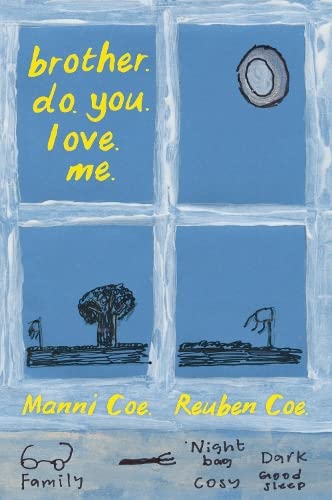 "Reuben, aged 38, was living in a home for adults with learning disabilities. He hadn't established an independent life in the care system and was still struggling to accept that he had Down's syndrome. Depressed and in a fog of anti-depressants, he hadn't spoken for over a year. The only way he expressed himself was by writing poems or drawing felt-tip scenes from his favourite West End musicals and Hollywood films. Increasingly isolated, cut off from everyone and everything he loved, Reuben sent a text message: 'brother. do. you. love. me.'

When Manni received this desperate message from his youngest brother, he knew everything had to change. He immediately left his life in Spain and returned to England, moving Reuben out of the care home and into an old farm cottage in the countryside. In the stillness of winter, they began an extraordinary journey of repair, rediscovering the depths of their brotherhood, one gradual step at a time.

Combining Manni's tender words with Reuben's powerful illustrations, their story of hope and resilience questions how we care for those we love, and demands that, through troubled times, we learn how to take better care of each other."
A great read for adult siblings.